Roshini – Super singer biography, Date of Birth, Wiki, Songs, Images, Native
Roshini is a female contestant she is one of the top 2o contestant in super singer season 7, her native is London, United Kindom. In the Introduction round, sang the good song  from Movie Modhi Vilayadu song name  "Paathi Kadhal Paathi Mutham" along with Sahana.
To vote for Roshini super singer vote check here.
Roshini is selected in the team of judges Benny and Swetha team.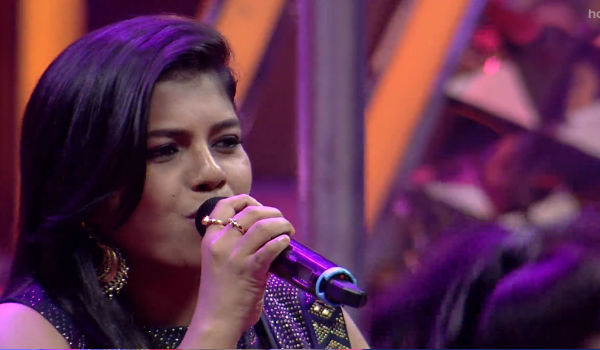 List of rounds Roshini participated in super singer
First Round – Roshini sang the good song  from Movie Kuththu song name  "Pottu Thakku".Roshini is talented in singing the Folk songs.
Duet Challenge – In the Duet challenge round Roshini Sang  Folk song  "Aalu Aana Naal Mudhala" from movie Kadhal Kavithai along with other super singer contestant Abhinav.
Solo Round –  Roshini Sang the Melody  "Malaiyil Yaaro Manathodu Pesa" from the Ilayaraja music  flim Chatiriyan. She also Impressed all the four panel of judges. Roshini Won the Solo Competition Round against other super singer co-contestant Poornima.
Devotional Round challenge – She Sung song from movie Achchaani. where Song is  Maatha Un Kovilil. In this devotional Battle, Roshini lost battle against other contestant .
Super singer season 7 based on public voting Roshini last votes from public is 1121258.
Biography, native, dob, personal details of Roshini contestant check out here.
Roshini images – Super singer contestant season 3