Suganthi – Super singer biography, Date of Birth, Wiki, Songs, Images, Native
Suganthi Super singer contestant is a Nattupura singer from Kanchipuram, Tamil Nadu. Last Super singer season 6 Senthil ganesh and Vijaya Lakshmi was there to sung Nattupura songs. Among them senthil won title for season 6.
Introduction Round: Suganthi Sung a Nattu Pura melody song with her Own lyrics along with other contestant Kannagi.
To vote for Suganthi super singer vote check here.
Team Selection: Suganthi is selected in the team of judges Benny and Swetha team.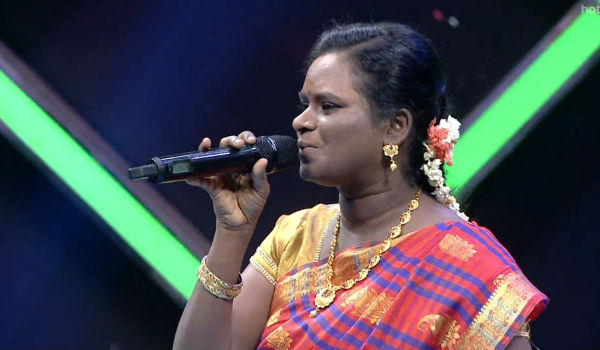 List of rounds Suganthi participated in super singer
First Round – Suganthi sang the good Nattupura song  "Poonguyile Poonguyile Ethana Naala Song" with her own lyrics. She also impressed all the four judges by her singing.
Duet Challenge – In the Duet challenge round Nattu Pura Singer Suganthi sang the old Classic song "mama mama mama Yema Yema Yema" along with other contestant Parthiban.
Solo Round –  Suganthi Sang the Melody  In the Solo Competition Round, She Sang the popular Village Nattupura song "Machan Machan Karutha Machan".  Suganthi lost solo competition round with other contestant Sahana.
Devotional Round challenge – She Sung song from movie Raja Raja Cholan   where Song is  "Yedu Thanthanadi Thillaiyile". In this devotional Battle, Suganthi lost battle against other contestant Kannagi.
Super singer season 7 based on public voting Suganthi last votes from public is 111345.
Biography, native, dob, personal details of Suganthi contestant check out here.
Suganthi images – Super singer contestant season 3